Convenient shade option for all-day play on the water. Use our handy search tool to find a folding canopy top to fit your boat.
Search Below and Order Online!

Sewlong's FOLDING CANOPY TOP
Smooth, Award-Winning Style
Our patented and award-winning Folding Canopy Tops (FCT) provides the most coverage and are the easiest to use sunshades in the industry. The unique design mounts to the outside of the tower and utilizes the tower as part of the structure. This eliminates the need for unnecessary framework and allows for more length and headroom while being simple to use.
We have two versions of our Folding Canopy Top. The FCTv2 uses our custom designed and manufactured mounting hardware that can adapt our unique framework to most boat towers. Our FCTv3 hardware is engineered and built specifically for certain Centurion, Supreme, and Nautique boat towers. The v3 hardware is more robust to accommodate a larger framework and coverage. Both the v2 and v3 mounting hardware were designed specifically to allow for installation without drilling holes in the tower or top.
Folding Canopy Top Features
Our FCT provides the most shade you can get with a tower-mounted bimini top, all while providing plenty of headroom.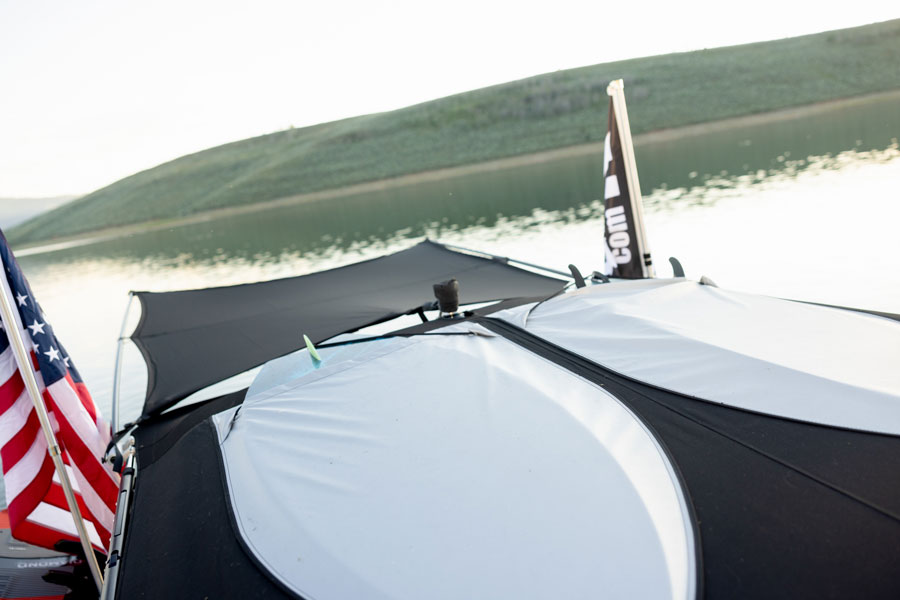 Surf pockets provide a convenient way to store and transport your surf boards. Our surf pockets are made with a special heat-reducing fabric to protect your boards from the hot summer sun.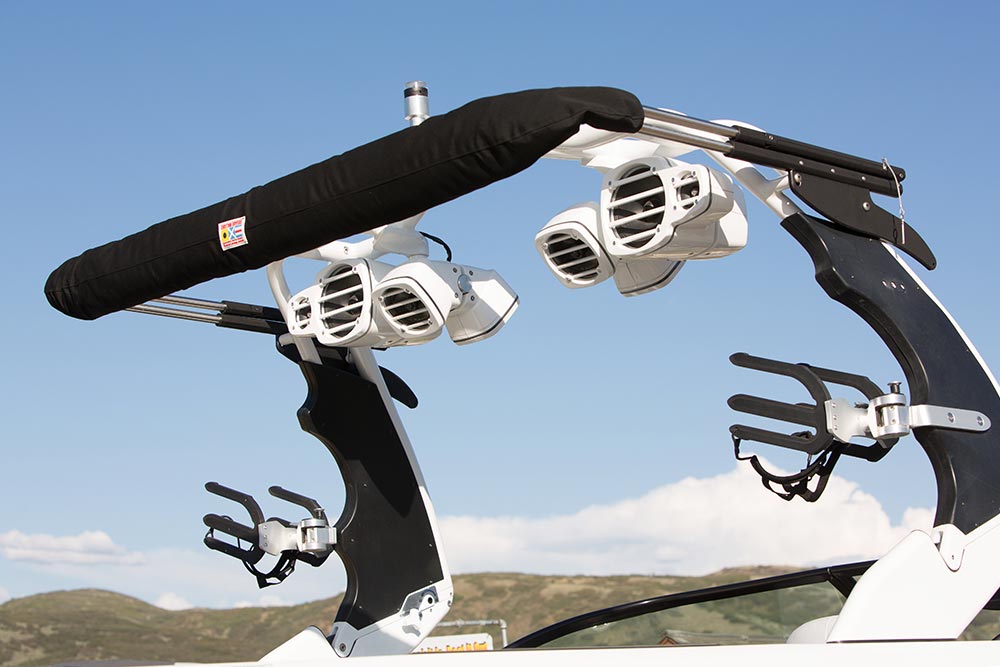 The FCT utilizes a simple, tower-mounted folding design that allows for easy stowing in the included zip-on boot, resulting in a neat, clean look.
Stainless-steel frame and custom manufactured mounting components made from billet aluminum, ensure a solid, robust mounting foundation that is durable and quick to install.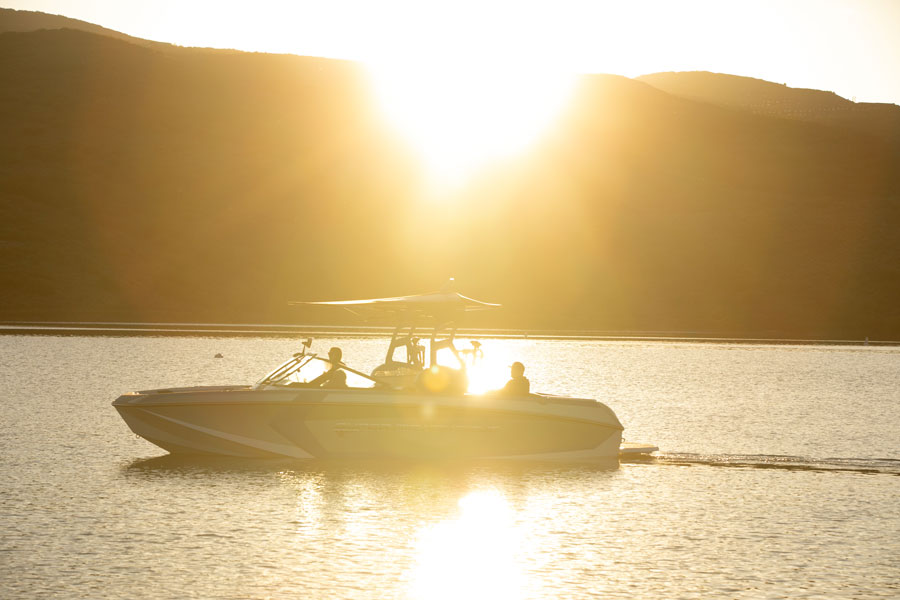 The FCT is made of premium, Sunbrella® brand fabric, which carries the Seal of Recommendation from the Skin Cancer Foundation, so you and your tribe stay protected.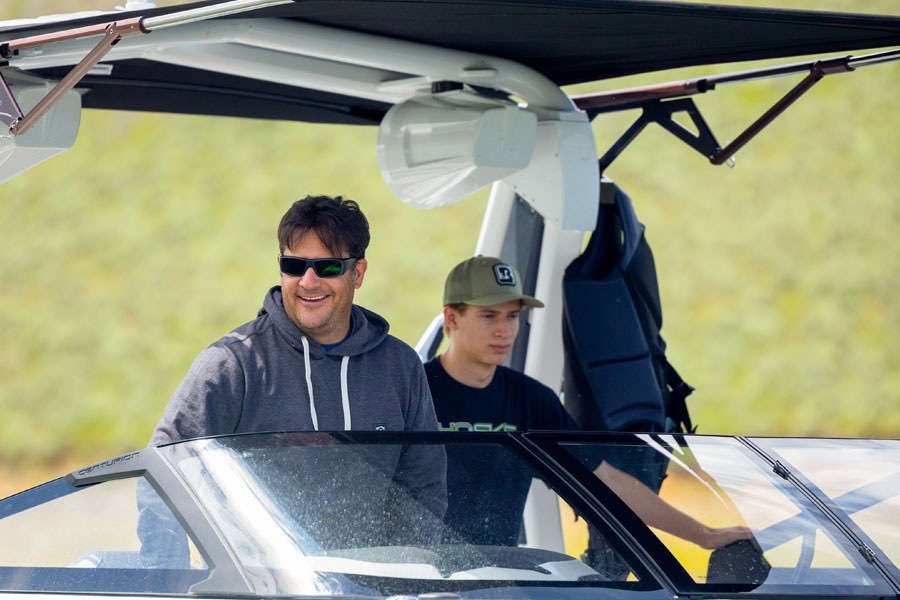 The FCT is long-lasting and comes with all the components you need to install, use, and store for transport, including the storage boot.
Damage DISCLAIMER: Please collapse, store and boot your Folding Canopy Top before transporting. It is NOT advised to tow or haul your boat with the top open and extended. SewLong LLC will not warranty or cover any damage to framework, canvas, or related components with transporting with the FCT in the open or extended position.
3D Printed Copy of our Top
I picked up a new-to-me 2005 Centurion SV230 this year and it didn't come with a bimini. While shopping for one, it suddenly dawned on me that I should just print one. Yes, print one with a 3D printer.
I chose to copy Sewlong's patented Folding Canopy Top. It's a great design. All of the black ABS plastic pieces you see were printed with a Stratasys Dimension 3D printer. The tubing is 1″ aluminum. I'll be using Sunbrella for the canvas. Here are pics of my progress so far.
READ MORE

Seriously people if you have a boat you need to get your cover and Bimini top from SewLong. We have had our boat covered with one for 7 years and it still looks new. We just got back from Powell and had some weather and unfortunately the cover ripped under the strain of rubbing against buoys in 60 MPH winds. Brought it in today and they're going to fix it under a warranty I had no clue about. This is customer service personified. I was already thrilled with the quality of what we bought and now this. WOW is the only word that comes to mind. I have no doubt the repair will be awesome but I had to give them a review as this is a company that knows how to treat their customers.
MATT KOHL – FACEBOOK
Folding Canopy Top Installation Videos
Centurion Drop Zone FCTv3 Install
Nautique Flight Control FCTv3 19'-21' Install
Nautique Flight Control FCTv3 18' Install
Centurion Maximus FCTv3 15'-21' Install
Nautique Flight Control FCTv3 12-17' Install
Tubular Tower (Nautique) FCTv2 Install
Gladiator Tower Folding Canopy – Bimini install
Nautique Flight Control Tower Bimini – Digital Install
Folding Canopy Top Use & functionality Videos
Centurion Maximus 15'-21' functionality
Nautique Flight Control FCTv3 19'-21'
Nautique Flight Control FCTv3 18'
Nautique Flight Control FCTv3 12'-17'
Nautique Flight Control Tower Bimini – Open
Nautique Flight Control Tower Bimini – Close
Supreme Octo Tower Bimini Fold & Collapse